Coming Soon!
Preorder ALL HE WANTS FOR CHRISTMAS for only 99 cents!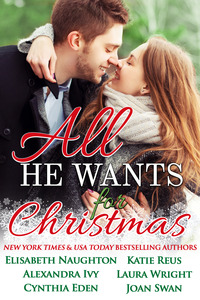 From six of your favorite New York Times and USA Today bestselling authors…
Here's to finding spies, cops, rockers, SEALs, professional hockey players and billionaires under the Christmas tree this year! Grab this bundle of ALL NEW, 100% sizzling hot holiday tales for just 99 cents! Pre-order price guaranteed!
* * *
Melt for Me
Against All Odds #2.5
by Elisabeth Naughton
Yuletide Spirits pub owner Ella Maclean doesn't do holidays. In fact, Ella would be perfectly happy if the calendar jumped from November to January, bypassing December all together. Known as Holly, North Carolina's infamous Scrooge, Ella's singular focus is to capitalize on the silly tourists who flock to the winter-wonderland-themed community so she can forget everything she lost on a cold, snowy night not long ago. Until, that is, rock's latest "it" guy, Tate Kendrick, rolls back into town.

Ella hasn't seen Tate in years, but Tate's suddenly determined to break through her icy barriers. She tries to resist the rocker's wicked charm, but one touch is all it takes for the heat they shared as teens to burst right back into flame. As first love rekindles, Ella's frozen heart slowly begins to thaw. But when trouble linked to the rock star strikes at the pub and threatens to shatter everything she's built, Ella can't help but wonder who this new Tate Kendrick really is. Because as much as she wants to believe he's the holiday miracle she's been too afraid to hope for, something inside her warns he could be nothing more than her nightmare before Christmas.
Look for this all-new romantic anthology by your favorite New York Times Bestselling Authors, coming December 2015!

**Author Note** ALL HE WANTS FOR CHRISTMAS is currently only available for preorder at Amazon, but on release day will be available at all major eBook retailers including B&N, iBooks, & Kobo.