NEW RELEASE!
FATAL PURSUIT, the third book in the Aegis Series, is available today!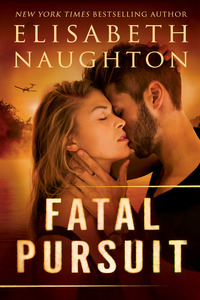 Five years ago, Aegis Security op manager Marley Addison's lover died in a South American raid gone horribly wrong…or so she thought. When she receives a phone call telling her that he is still very much alive and in danger, she vows to bring him home safely, even if Aegis CEO and former Navy SEAL Jake Ryder has kept her out of the field for the last few years. Then Jake shows up in Colombia to help her, leaving Marley annoyed…and more than a little distracted by her alarmingly handsome boss.

As things between Marley and Jake heat up in the wilderness, they discover their rescue mission is filled with treachery. Now the domineering Jake has to rely on Marley for survival. But can she depend on him when their mission takes a shocking and deadly turn?
Fatal Pursuit is the pulse-pounding third book in Elisabeth Naughton's scorching Aegis series.

What reviewers are saying about FATAL PURSUIT:
"Elisabeth Naughton will captivate your imagination with her style of writing, her characters and her addicting storylines. The Aegis series of romance, action and military style action pulls you onto the pages." —The Reading Cafe

"Mind-blowing, heart-pounding, toe-curling and breath taking suspense book! Miss Naughton captivated me with her writing and heart-stopping story." —Coffeeholic Bookworm

"This series just keeps getting better and better." —Just Book Talk
Purchase FATAL PURSUIT:
Amazon | Barnes & Noble | Powell's | IndieBound | Chapters | B-A-M

**Author Note** FATAL PURSUIT is a Montlake published books, which means it is only available in eBook format for Kindle. If you aren't a Kindle owner, don't worry. You can download the free Kindle app for your favorite eBook reading device from Amazon and read FATAL PURSUIT today. FATAL PURSUIT is also available in print and AudioBook from all major retailers.